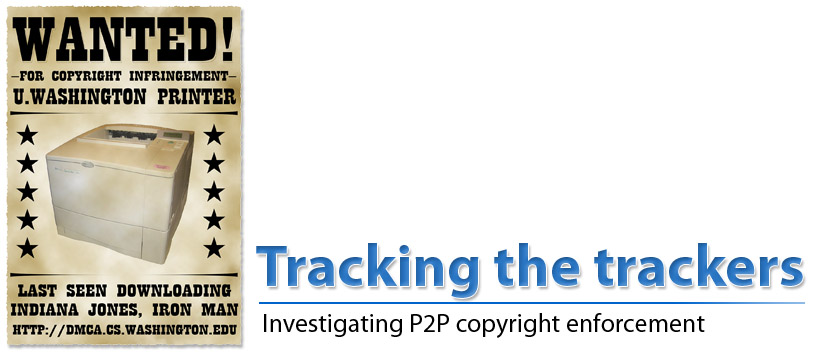 New: Check out OneSwarm, our new, privacy-preserving P2P software release.
Overview
As people increasingly rely on the Internet to deliver downloadable music, movies, and television, content producers are faced with the problem of increasing Internet piracy. To protect their content, copyright holders police the Internet, searching for unauthorized distribution of their work on websites like YouTube or peer-to-peer networks such as BitTorrent. When infringement is (allegedly) discovered, formal complaints are issued to network operators that may result in websites being taken down or home Internet connections being disabled.
Although the implications of being accused of copyright infringement are significant, very little is known about the methods used by enforcement agencies to detect it, particularly in P2P networks. We have conducted the first scientific, experimental study of monitoring and copyright enforcement on P2P networks and have made several discoveries which we find surprising.
Practically any Internet user can be framed for copyright infringement today.
By profiling copyright enforcement in the popular BitTorrent file sharing system, we were able to generate hundreds of real DMCA takedown notices for computers at the University of Washington that never downloaded nor shared any content whatsoever.

Further, we were able to remotely generate complaints for nonsense devices including several printers and a (non-NAT) wireless access point. Our results demonstrate several simple techniques that a malicious user could use to frame arbitrary network endpoints.

Even without being explicitly framed, innocent users may still receive complaints.
Because of the inconclusive techniques used to identify infringing BitTorrent users, users may receive DMCA complaints even if they have not been explicitly framed by a malicious user and even if they have never used P2P software!
Software packages designed to preserve the privacy of P2P users are not completely effective.
To avoid DMCA complaints today, many privacy conscious users employ IP blacklisting software designed to avoid communication with monitoring and enforcement agencies. We find that this software often fails to identify many likely monitoring agents, but we also discover that these agents exhibit characteristics that make distinguishing them straightforward.
While our experiments focus on BitTorrent only, our findings imply the need for increased transparency in the monitoring and enforcement process for all P2P networks to both address the known deficiencies we have exposed as well as to identify lurking unknown deficiencies.
More details about our findings and our experimental methodology are available in our online FAQ. A more thorough treatment is available in our paper.
Paper
Challenges and Directions for Monitoring P2P File Sharing Networks –or– Why My Printer Received a DMCA Takedown Notice [ pdf ]
HotSec 2008
(Previously appeared as UW TR#08-6-01)
Michael Piatek, Tadayoshi Kohno, Arvind Krishnamurthy

People
Acknowledgments
This work is supported by the NSF (CNS-0720589, 0722000, 0722004) and UW CSE.